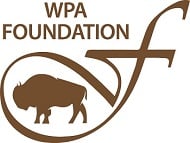 Wyoming's newspapers have served as the heart of the state's towns since its days as a territory, often being built securely in the center of the community. Their coverage of daily activities and events both locally and from around the country and globe continue to help prepare their readers to be informed and knowledgeable members of society.
The men and women honored by the WPA Foundation Hall of Fame for their significant contributions to Wyoming's newspaper industry are named below. Each has been selected for induction based on their nomination by members of the industry and a review of their careers by a WPA Foundation Hall of Fame committee. The publishers, editors, ad directors and others found here represent the very best qualities of Wyoming newspaper people.
Wyoming Press Association Foundation
Hall of Fame Members
Listed by year of induction
2018
Michael Sellett, publisher, Jackson Hole News&Guide
2017
Pat Schmidt, publisher, Thermopolis Independent Record
2016
Joe McGowan, bureau chief, Associated Press
2015
Joe De Barthe, founder, Buffalo Bulletin
2013
Mike and Pat Lindsey, publishers of numerous Wyoming newspapers
2012
Nancy Shelton, Wyoming Press Association director
2011
Robin Hurless, Casper Star-Tribune publisher
2010
William C. Deming, Wyoming Tribune-Eagle publisher
2009
J. Douglas Reeves, Wyoming Tribune-Eagle business manager
2008
Dick Perue, Saratoga Sun publisher
J.E. Hanway, Natrona County Tribune publisher
Bill Hosokawa, Heart Mountain Sentinel editor
2007
Diane Bonner, Powell Tribune
Asa Mercer, author, "Banditti of the Plains"
2006
Francis Brammar, Wyoming Tribune-Eagle photographer
Jim Hicks, Buffalo Bulletin publisher
Robert Combs Warner, University of Wyoming photography instructor
2005
Bob Peck, Riverton Ranger publisher
Ted O'Melia, Rawlins Daily Times, Northern Wyoming Daily News publisher
Cora Wanamaker, first woman publisher in Wyoming, Rocket-Miner
2004
Wallace Biggs, Wyoming Press Association manager
Chuck Harkins, Casper Star-Tribune sports editor
Fred McCabe, Jackson Hole Guide publisher
2003
Milton Chilcott, Sheridan Press publisher
Bruce Kennedy, founder of Sage Publishing
Tracy McCraken, Wyoming State Tribune, Wyoming Eagle publisher
Phil McAuley, Casper Star-Tribune reporter/editor;
Roy Peck, Riverton Ranger publisher

The Milton Chilcott Award is named after Milton Chilcott, the former publisher of The Sheridan Press who never shied away from court battles to make sure that public information remained available to the public. His battles led to landmark decisions that helped clarify and define Wyoming's government transparency laws.
Chilcott was the first to receive the award created in his honor in the mid 1980s. Since then, it has been awarded to only five others for their extraordinary efforts to make sure citizens have access to public information.
Wyoming Press Association
Milton Chilcott Award
Listed by year of induction
2019
Jim Angell, former WPA Executive Director
2017
Bruce T. Moats, WPA Attorney
2005
Ann Turner, publisher of Gillette News-Record
&
Jim Wood, Wyoming Newspapers, Inc.
1994
Ron Franscell, former publisher